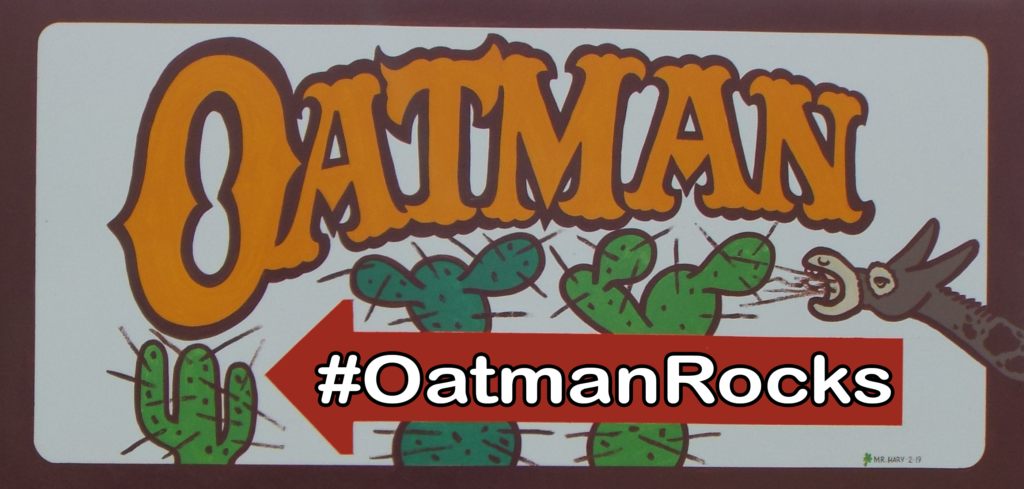 "Oatman, Arizona was sparsely settled starting in 1863 when a small bit of gold was discovered in the surrounding Black Mountains. Not much came of the discovery until two lucky prospectors struck it rich in 1915, with a 10 million dollar claim. The town grew rapidly after that, and in the course of a single year, the tiny tent village became a bustling town of 3,500 people. In the 1920s and 30s, the population grew to around 10,000.
In 1921, a fire swept through the town destroying most of Oatman's buildings. Oatman certainly prospered during a decade-long gold rush, but when the mines dried up, so did everything else. The town's biggest mine closed in 1924, and by 1941, the government ordered the closing of Oatman's remaining mining operations as part of the country's war efforts.
Because of its location on Route 66, local commerce eventually shifted toward accommodating motorists traveling between Kingman, Arizona and Needles, California. From 1926 to 1952, the Mother Road coursed through the heart of Oatman, sustaining a healthy tourism business.
The tourism boom didn't last long in Oatman, thanks to the interstate highway system. Interstate 40 bypassed Oatman in the early 1950s, and by the early 1960s, the whole area was all but abandoned.
A revitalized interest in historic route 66 saved Oatman from demise, and while it may not be thriving, Oatman has a lot to offer visitors looking for that kitschy slice of Americana. Oatman is often described as a ghost town, but that isn't quite accurate. The current human population of Oatman, Arizona is 128. The burro population is close to 2,000." Source – https://backroadramblers.com/oatman-arizona/