Needles' formation began when three railroads, Atlantic and Pacific Railroad, Southern Pacific Railroad and the Santa Fe Railroad joined together to form the 35th Parallel Transcontinental Railroad. In 1883, Needles became the home of the railroad workers, who help build the railroad making coast-to-coast travel available to the newly developing West.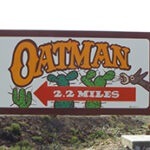 In 1924, the Oatman's main employer, United Eastern Mines, permanently shut down its operations after producing US$13,600,000 (equivalent to $205,373,204 in 2020) worth of gold at the government-controlled market value of $20 per ounce.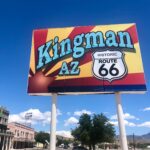 Kingman is known as The Heart of Historic Route 66 because the longest remaining preserved stretch of the famous all-American road, Route 66, runs through downtown. The Route 66 Museum is truly unique in that it is a museum of history, housed in a historical building that lighted the way for the earliest Route 66 travelers.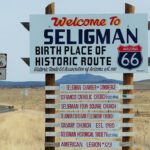 Originally born as a railroad town encampment named Prescott Junction, Seligman was officially named in 1886 after Jesse Seligman, a railroad financier.